45 Years of Asian American Studies @ UCLA
During the 2014-15 academic year, we invite you to join us in celebrating the 45th Anniversary of the UCLA Asian American Studies Center and other three renowned UCLA Ethnic Studies research centers, under the Institute of American Cultures. Forty-five years of Ethnic Studies marks a major milestone in the history of diversity at UCLA and in America.
Join us as the Center features 45 significant accomplishments!
---
ACCOMPLISHMENT #4: Bridging Research with Community through Endowed Programs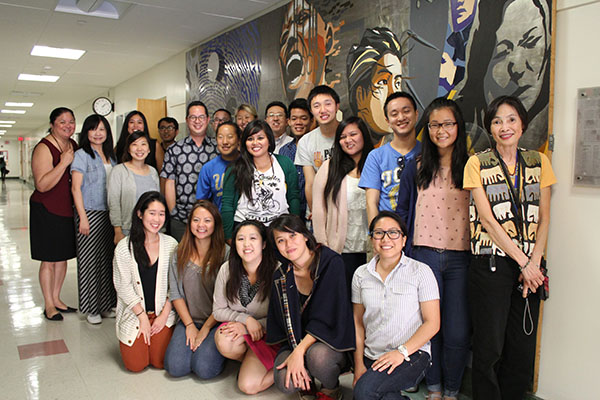 The tremendous support from donors, alumni and friends have made it possible for AASC to establish four chaired professorships and six endowed programs. The programs below have and continue to support campus-community partnerships and a wide range of research efforts that involve students and promote activities such as -- research & publications, preservation (library/archives), public programming and community partnerships.
The George and Sakaye Aratani Community Advancement Research Endowment (CARE) supports partnerships between UCLA students, staff, and faculty with Japanese American community-based organizations. Aratani CARE grants have connected UCLA and community organizations such as Little Tokyo Historical Socity, Nikkei Student Union, Japanese American Cultural and Community Center, Pacific Asian Consortium in Employment, and many more. For more information on the Aratani CARE grants, please visit: http://www.aratanicare.org/
The David and Tina Yamano Nishida Distinguished Lectureship in Asian American Studies provides funding to bring a wide range of speakers connected to Asian American issues to campus to meet with students and to share their work with the UCLA campus community. This year (2014), the Yamano Nishida Distinguished Lectureship in Asian American Studies presented UCLA alumnus Jeff Chang, who spoke on his newly released book, "Who We Be: The Colorization of America." For more information, please visit: http://www.aasc.ucla.edu/news/whowebe.aspx
The Yuji Ichioka and Emma Gee Endowment for Social Justice and Immigration Studies honors two founders of the Center and continues their legacies in these areas. The Ichioka and Gee Endowment provided key support for a student and community-based forum regarding the Free Chol Soo Lee Movement 30th anniversary commemoration program, linked to the publication of materials in the Fall 2013 issue of Amerasia Journal. The Free Chol Soo Leemovement was one of the earliest pan-Asian American, multiracial, and international social justice efforts to free a wrongly accused individual in prison. The event marked the 30th anniversary of Chol Soo Lee's release from prison. http://www.uclaasianamericanstudies.com/cm/2010/12/06/yuji-ichioka-and-emma-gee-endowed-fund-in-social-justice-and-immigration-studies/
The Stanley Kwok Lau and Dora Wong Lau Endowment in Chinese American Studies supports student research and a array of related activities in the area of Chinese American studies. Currently, the Lau Endowment supports research on these on-going research projects: The Chinese in LA Newspapers, which is focused on the depiction of Chinese Americans in mainstream Los Angeles newspapers in the period of 1850-1900; Chinese American Protestant Churches in Los Angeles, 1850-1945, which is focused on case studies of three, historic Chinese congregations in Los Angeles.
The Eji Suyama, 100th Battalion/442nd Draftees, No-Nos, Draft Resisters, and Renunciants Archival Collection Endowment provide support for documenting and preserving the stories of Japanese American resistance during World War II. An online archival collection is currently being developed and special community events in the Los Angeles and San Francisco areas showcase the collection. For more information, please visit: http://www.suyamaproject.org
The Dr. Sanbo and Kazuko Sakaguchi Endowment in Japanese American Studies enables the Center to build upon its remarkable foundation in this area of study. For more information, please visit: http://www.aasc.ucla.edu/news/sakaguchiresearch.aspx
---
Featured Accomplishments: 1 | 2 | 3 | 4 | 5 | 6 | 7 | 8 | 9 | 10 | 11 | 12 | 13 | 14 | 15 | 16 | 17 | 18 | 19 | 20 | 21 | 22 | 23 | 24 | 25 | 26 | 27 | 28 | 29 | 30 | 31 | 32 | 33 | 34 | 35 | 36 | 37 | 38 | 39 | 40 | 41 | 42 | 43 | 44 | 45 | Complete List