45 Years of Asian American Studies @ UCLA
ACCOMPLISHMENT #2: Investing in the Future Scholars and Leaders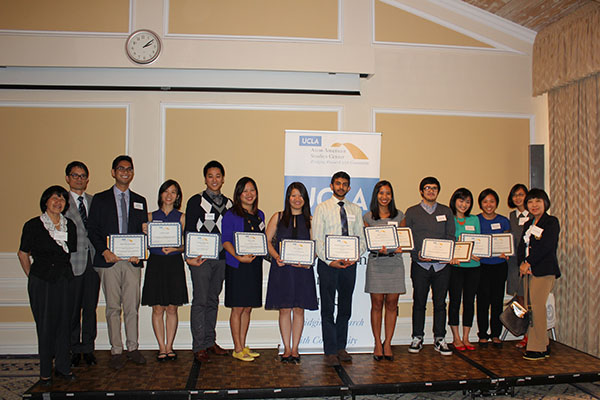 Through the generosity of our donors and alumni, the Asian American Studies Center (AASC) annually awards grants, fellowships, academic prizes, and scholarships for community oriented research, creative projects, campus or community service experience, and internships with specified community organizations. Over the past five years, the Center has given a total of $304,395 in awards and financial support to graduate and undergraduate students.
For forty-five years, the AASC -- as part of the Institute of American Cultures fellowship and grants programs--has supported research on African Americans, American Indians, Asian Americans and Pacific Islanders, and Chicanas/os. The visiting scholar/researcher fellowships have provided training and opportunities for scholars across the nation and world, who have contributed significantly to the field of Asian American Studies. A listing can be found at: http://www.iac.ucla.edu/fellowships_Awardees20132014.html. More recently, the AASC has funded research that has advanced our understanding of new social and cultural realities occasioned by the dramatic population shifts of recent decades, including greater heterogeneity within ethnic groups and increased interethnic contact. During the last five years, the AASC has provided $314,500 in fellowships and grants through the IAC Program.
These awards have supported the education of hundreds of students and strengthened the pipeline of young scholars into careers researching the Asian American and Pacific Islander communities -- past and present.
---
Featured Accomplishments: 1 | 2 | 3 | 4 | 5 | 6 | 7 | 8 | 9 | 10 | 11 | 12 | 13 | 14 | 15 | 16 | 17 | 18 | 19 | 20 | 21 | 22 | 23 | 24 | 25 | 26 | 27 | 28 | 29 | 30 | 31 | 32 | 33 | 34 | 35 | 36 | 37 | 38 | 39 | 40 | 41 | 42 | 43 | 44 | 45 | Complete List