The Learning Center provides introductory information about the different areas of the Suyama Project.
Shortly after Japan attacked Pearl Harbor, people of Japanese descent living on the West Coast were removed from their homes and imprisoned in United States concentration camps.
The stereotype that formed of Japanese Americans from this experience was that of the "quiet" American who went "quietly" into the camps, never questioned the constitutionality of their incarceration, agreed to serve in the military while imprisoned in the camps to prove their loyalty and "quietly" returned to their pre-war lives after the war…[more]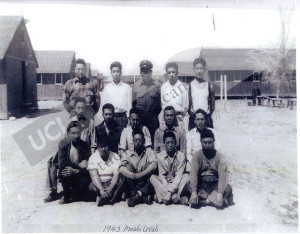 Although history books and the Suyama Project website highlight major protest activities that occurred within the Japanese American community during World War II, it is important to note that resistance was not limited to only a handful of Japanese Americans.
There was what can be called "popular" or "everyday" resistance from within the United States concentration camps from almost all the inmates over the injustices they endured as a result of imprisonment.
These actions may have manifested themselves in a number of ordinary ways such as, but not limited to:
Stealing or "borrowing" - the term most often used by the inmates - wood from camp constructions sites or camp supply rooms to make personal furniture
Sabotaging the fence around the camp
Sneaking out of camp to go fishing or hiking
Making moonshine in camp
Smuggling liquor and other difficult-to-get items into camp
Skipping classes
Writing graffiti on the barrack walls, some of which are still visible on existing barracks
These collective and creative acts of resistance appear in all sorts of documents in the archives and are given voice in oral history interviews.
However, the Suyama Project website will focus and highlight the larger protests.