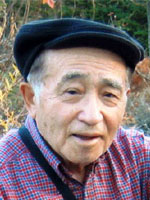 Eji Suyama (1920 - 2009) joined the U.S. Army before the start of World War II and became part of the replacement unit of the 100th/442nd RCT. He distinguished himself in combat in France and Italy and was one of very few surviving riflemen from the 3rd Battalion (100/442 RCT) in the legendary rescue of the Texas "Lost Battalion," where the 442nd suffered an estimated 800 casualties to rescue 211 men of the141st Regiment caught behind enemy lines.
After the war, Suyama enrolled in the University of Chicago School of Medicine and graduated with honors with a medical degree in 1950. He eventually worked at Maine Coast Memorial in Maine where he became chief of surgery. After his "retirement" in 1994, he worked at the veteran's hospital at Fort Meade, S.D.
During this time, Suyama wrote numerous Letters to the Editor to the various Japanese American newspapers, taking the controversial stand of a Japanese American veteran publicly supporting Japanese Americans who protested their incarceration in U.S. style concentration camps during World War II.
Most Japanese American veterans stood by the Japanese American Citizens League's (JACL) philosophy that they had to shed their own blood to prove themselves as loyal U.S. citizens, whereas those who had protested their imprisonment continued to believe Japanese Americans born in the U.S. were U.S. citizens by birthright.
The two distinct paths taken by Japanese Americans continue to divide the Japanese American community to this day, but Suyama was one of the few who understood the necessity of serving in the military to battle it out in the court of public opinion while at the same time fighting in the court of law to regain their constitutional rights.