K. Patrick and Lily A. Okura Collection at UCLA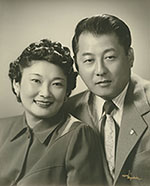 The lives of Patrick and Lily Okura epitomize Japanese American civil rights leadership in the face of adversity and discrimination. Their life histories give testament to service and dedication for social justice, especially for Asian American and Pacific Islander (AAPI) communities.
K. Patrick Okura (1911-2005) was born in Los Angeles, California, the eldest son of Japanese immigrants. He attended UCLA, obtained a Bachelor's degree in Psychology (1933), and became the first Asian American to graduate with a Master's degree in Psychology (1935) at UCLA. He was also the first Japanese American to play on their varsity baseball team. Later he received an honorary Doctorate from the Phillips Graduate Institute (2001). After UCLA, Okura worked in various positions for Los Angeles. From 1939-1942, he worked as Personnel Technician to the Los Angeles City Civil Service, serving as the highest-ranking Japanese American in the city and the first Japanese American to be hired by the city for an administrative position.
After Pearl Harbor was attacked, however, the Los Angeles Times and Examiner labeled Okura as "the most dangerous Japanese American" and faced accusations of plotting to sabotage the city's water and power. He was pushed to resign but refused and eventually fired. World War II continued to impact Okura when he and his family, along with thousands of other Japanese Americans, were forced to go to the relocation assembly center at the Santa Anita Racetrack.
Lily and her family were also evicted to Santa Anita, and upon closure of the Center, Lily and Pat were married in October, 1941. Offered a staff psychologist position by Father Flanagan of Boys Town, a boys' home in Omaha, Nebraska, the Okura's decided to relocate to the Midwest and re-establish themselves for the next 30 years. Not only did he become well established in his professional career and in the community, Okura also took an active role as a civil rights leader. A member of Japanese American Citizens League (JACL) since 1930s, he served as National President from 1962-1964. Under his leadership, JACL participated in the first March on Washington for Jobs and Freedom in 1963, and was actively involved with reparations from the U.S. government for the WWII incarceration of Japanese Americans. In 1978, the organization bestowed their highest honor on Okura when he was named Japanese American of the Biennium for his hard work and contributions.
Okura is a recognized pioneer in Asian Pacific American, minority, and community mental health. Beginning in 1971, Okura became the Executive Assistant to Dr. Bertram S. Brown, the Director of the National Institute of Mental Health (NIMH). Okura was in a strategic position for more than two decades advocating for and endorsing financial support for the health and welfare needs of AAPI communities. In 1980, the UCLA Alumni Association bestowed on him its Community Service Award.
Patrick and Lily used their reparation funds to co-found the Okura Mental Health Leadership Foundation (OMHLF) to promote leadership, research and training in human services. OMHLF has made significant impact on U.S. Congressional policy regarding to Asian American and Pacific Islander health issues. Okura also founded the National Asian Pacific American Families Against Substance Abuse (NAPAFASA) in 1988, as well as the Asian American Psychological Association.
Lily A. Okura (1919-2005) was born in Santa Barbara, CA. In her younger years, she was recognized for her talent as a dancer and also appeared in several movies including "Oil for the Lamps of China." She represented the city of Long Beach in the Tournament of Roses Parade in 1936 and participated in talent contests during Nisei Week. In 1939, she obtained her Bachelor's degree in Business Administration from Long Beach Business College and continued her studies at the University of Nebraska, Omaha.
Once the Okuras relocated to Nebraska, Lily worked with the YWCA in Omaha, where she started off as a secretary and eventually served as interim Executive Director. She moved on to become an administrator at the C. Meyer Louis Children's Therapy Center at the University of Nebraska College of Medicine and then later the Director of Volunteer Services. In 1972, hoping to rest, she moved to Bethesda, Maryland, but was recruited by the Director of Public Relations at the Corporation for Public Broadcasting and held the position of Director of Personnel until her retirement in 1982.
With her administrative experience, Lily managed the Okura Mental Health Leadership Foundation and was also heavily involved in Altrusa International, a worldwide organization of professionals that aims to better the lives of others. She was recognized for her leadership, consistently serving on their Board of Directors and holding other positions. She took an active role with JACL at regional and national levels, and was the first woman elected to their National Board of Directors. She served in positions such as National Vice President of General Operations, Vice President, National Chair for the JACL's Japanese American of the Biennium Committee, and Editor of the Washington, D.C. chapter's D.C. News Notes. Her successful professional career and involvement with multi-faceted communities throughout her retirement deemed her as among most hardworking and remarkable Asian American women of her time.