Mary Uyematsu Kao releases book of photographs documenting Asian American activism in the 1970's
Rockin' the Boat Brings Movement Back to the Future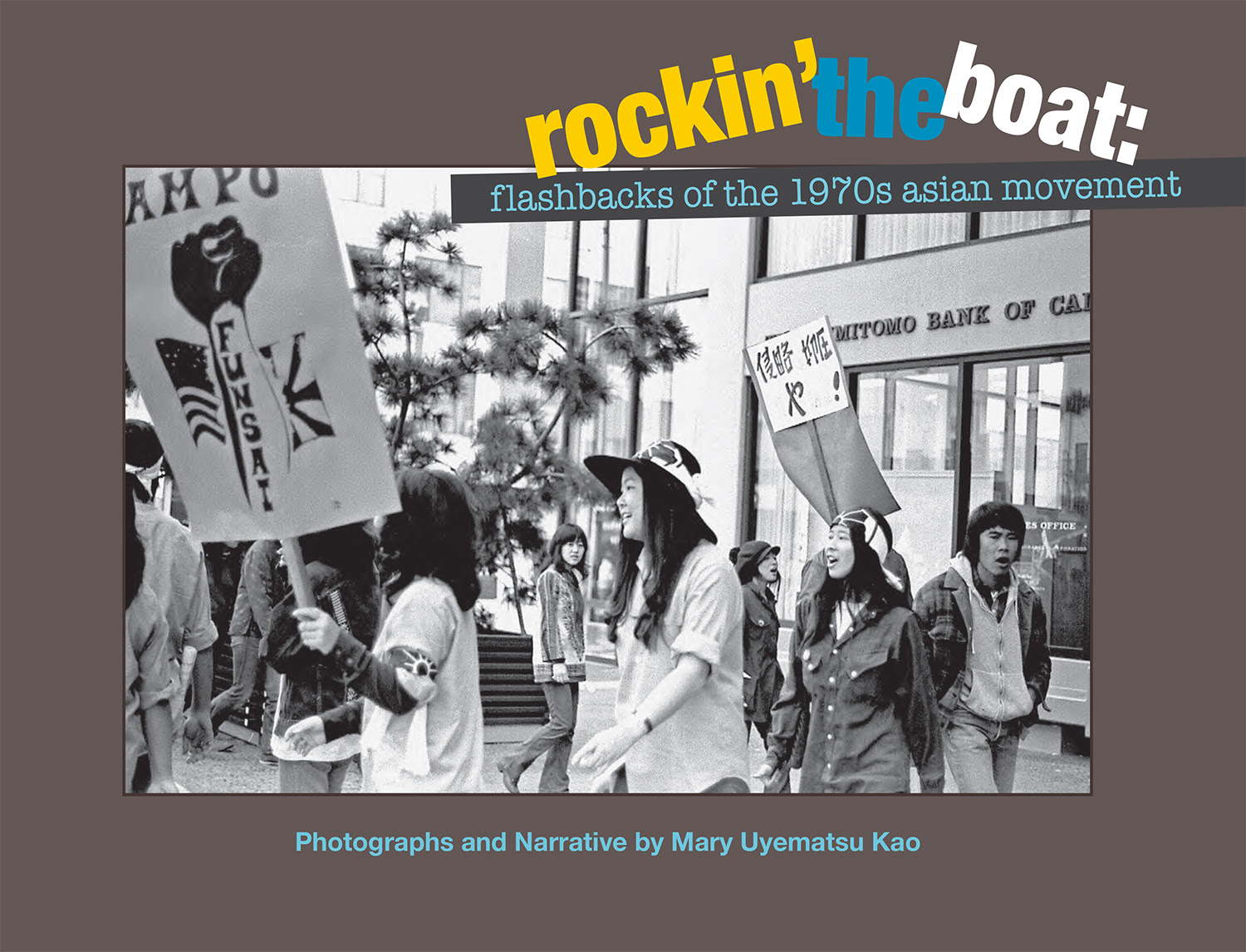 Los Angeles—The UCLA Asian American Studies Center (AASC) is pleased to announce the release of Rockin' the Boat: Flashbacks of the 1970s Asian Movement, co-published and written by Mary Uyematsu Kao. It is a striking visual journey into the Asian American Movement from 1969 to 1974, presenting never-before-seen a black and white photographs by Kao, juxtaposed with first-person narratives of the political issues that sparked a youth movement and broke the model minority mold.

Influenced by the Black Panther Party for Self-Defense and the transformative shifts pushed by the Civil Rights Movement, Asian Americans of that time period rose to the occasion to become part of a Third World Movement in the United States. The book acts as witness to the diverse spaces and events of a history that is often overlooked—from the early days of the UCLA Asian American Studies Center to the little known 1970 Manzanar Pilgrimage; from the Pioneer Project Wildflower Trip to a premier Movement wedding; from Tiao Yu T'ai protests to the Anti-Ferdinand Marcos Campaign; and a cross-country trip visiting the Movement in Denver, Chicago, and New York City.

These snapshots are a belated offering by Mary Uyematsu Kao to the Asian American Movement of the '70s; it is a testament to those who participated, of their work, their struggle, their hope. The images capture moments of power and reflection, of protest and students marching in the streets, of candlelight vigils and community programs. It is a reminder to current and future organizers and activists that today's struggles are rooted in the history of U.S. imperialism, and of the need to connect with other movements, to think critically, and to push forward in the face of systemic inequities.

Seventeen contributors give personal accounts of their different entry points into the Movement. Tomie Arai was drawn to artistic projects of the Basement Workshop in New York City; Wendy Nagatani gives a rare look at the Yellow Brotherhood from a woman's perspective; Elsie Uyematsu Osajima hosted a Nisei Women's Panel on the changing roles of women; Miya Iwataki presents a Little Tokyo retrospective; and interviews with Vivian Matsushige, Sandy Maeshiro, and Marlene Murakami reflect on the impact of the Movement on the rest of their lives. Kenwood Jung describes UCLA's Asian American High Potential Program; Elaine Takahashi documents the early days of the Denver and Boulder Colorado Movements; and Scott Nagatani recounts the backstory on high school students organizing the Van Troi Anti-Imperialist Youth Brigade, an event that thrust the Japanese American community into discussing both sides of the Vietnam War.

Born in the Los Angeles suburb of Altadena, Mary Uyematsu Kao attended UCLA during the struggle to establish Asian American Studies on campus. Kao worked for 30 years at AASC before retiring in 2018 and she is known for her graphic design work for AASC Press publications, especially Amerasia Journal. Recognized for her role as an activist as well as a photographer documenting Asian American community events in southern California and far beyond, Rockin' the Boat is her first published photographic collection. It is a co-publication of Mary Uyematsu Kao and UCLA Asian American Studies Center, as part of AASC's 50th Anniversary, and is sponsored by the George and Sakaye Aratani Community Advancement Research Endowment (Aratani C.A.R.E.) Awards program.

AASC and Gardena Valley Japanese Cultural Institute invite you to join us on October 11th at 1pm for a virtual book event celebrating the release of Rockin' the Boat. Details will be shared at a later date.


Details: 11" x 8.5" format, softcover, 288 pages, with over 400 black and white photographs.
For book orders—$30 per book:
Mary Kao: mugao@ucla.edu
Carrie Morita: cfm549@aol.com
Sandy Maeshiro: smaeshiro@gmail.com
UCLA Asian American Studies Center Press online bookstore (accepts credit card orders): https://commerce.cashnet.com/aasc