UCLA Professor Kyeyoung Park Appointed to Korea Times-Hankook Ilbo Endowed Chair in Korean American Studies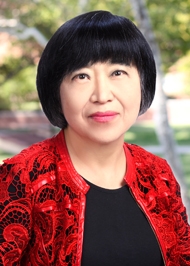 The UCLA Asian American Studies Center and Department, and the Department of Anthropology are pleased to announce the appointment of Professor Kyeyoung Park to the Korea Times-Hankook Ilbo Endowed Chair in Korean American Studies, starting in the 2022-2023 academic year.
"It is an honor to be named the Korea Times - Korean American Studies endowed Chair. With this unprecedented, prestigious endowed chairship, I hope to inspire students and faculty at UCLA and beyond, to make sure the study of Korean American culture, history, and politics may continue to flourish," said Professor Park.
The Korea Times-Hankook Ilbo Chair is the first and only one of its kind in American higher education and was made possible by the generosity of lead donor, Jae Min Chang, a UCLA alumnus and chairman, publisher and CEO of The Korea Times-Hankook Ilbo newspapers as well as the late Dr. Myung Ki "Mike" Hong, UCLA alumnus, chairman and CEO of Dura Coat Products, Inc.; and Do Won Chang, co-founder and CEO of Forever 21.
Professor Park added, "I appreciate the support of the Korea Times and the Korean American alumni from UCLA, Vice Provost David Yoo, the Asian American Studies Center Director Karen Umemoto, and colleagues in the Asian American Studies Department and Anthropology Department."
Professor Kyeyoung Park received her Ph.D. in Anthropology from the CUNY Graduate Center in 1990. She joined UCLA Anthropology and Asian American Studies in 1992, was promoted to associate professor with tenure in 2000 and full professor in 2020. Professor Park holds a split appointment in the departments of Anthropology and Asian American Studies. She has served on the Center's Faculty Advisory Committee and been actively involved in Asian American Studies since 1992. She has also contributed to building bridges between the university and the community and engaged with the community through her multiple roles as conference organizer, keynote speaker, consultant/advisor, and co-curator on Korean American experience.
She has published widely in these areas in both English and Korean, including an awarding winning book on Korean immigrant entrepreneurship, The Korean American Dream: Immigrants and Small Business in New York City (1997), winner of the Association for Asian American Studies' Book Award. Her newest book LA Rising: Korean Relations with Blacks and Latinos after Civil Unrest (2019) advancing an intersectional analysis by examining multi-racial and ethnic tensions in South Central Los Angeles. More importantly, differential access to the state and capital tends to affect racial relations-the relation of Latinos to Koreans as well as Blacks to Whites in South LA, thus feeding racial tension. Ethnic divisions manifest a racial matrix or what she calls "racial cartography." At its heart, this is a case study of racial and class relations amplified by cultural relations.
Her co-authored titles include Korean Americans Ethnic Relationship in (Multiethnic) Los Angeles, Cross the Pacific: The Lives of Korean Americans and their Socio-Political Engagement in the Global Age, and Korean American Studies in the Global Age: Critical Literature Reviews in Search of New Theoretical Frameworks. In addition, she coedited Korean American Economy and Community in the 21st Century and (co)edited three special issues of peer-reviewed journals: Second Generation Asian Americans' Ethnic Identity (1999 Amerasia Journal), How Do Asian Americans Create Places? Los Angeles and Beyond (2008 Amerasia Journal), and Emigration and Immigration: The Case of Korea (2014 Urban Anthropology).
Dr. Park's current research projects focus on Korean immigrant communities in Argentina, Brazil, and Paraguay and the second generation Korean American transnationalism. She is working on her new book on Korean immigrant communities in Argentina, Brazil, and Paraguay.
Dr. Park centrally locates race relations in the axes of inequality in the U.S. and analyzes the relationship among Korean Americans, African Americans, and Latinos at the intersections of citizenship, class, and culture. She is one of the most prominent and influential scholars on Korean immigration to the United States, Korean America, and Korean diaspora.
Dr. Park regularly teaches a course on Korean American Experience and Asian diaspora for the Asian American Studies Department and courses on race and racism (cross-listed with Asian American Studies and African American Studies) and critical migration study in Anthropology. She incorporates her research in her lectures and seminars and seeks to develop courses on Korean diaspora, Transnational Korea, and Gender and Sexuality in Korea and Diaspora.
Karen Umemoto, the Helen and Morgan Chu Chair and Director of the UCLA Asian American Studies Center states, "UCLA is fortunate to have such an internationally respected expert in the study of the Korean diaspora shedding light on the dynamics of structural and human factors in the formation of race relations in global cities such Sao Paulo, Buenos Aires, and Asuncion as well as Los Angeles and New York."
We would also like to take this opportunity to recognize the distinguished tenure of the inaugural holder of the Korea Times-Hankook Ilbo Chair, Law School Professor and former Vice Chancellor for Equity, Diversity and Inclusion, Jerry Kang. In June 2020, Professor concluded his two term appointment and returned to the UCLA faculty to pursue his interests in critical race studies research and teaching.
Please join us, along with the faculty, staff, and students of the Asian American Studies Center and the Departments of Anthropology and Asian American Studies, in congratulating Professor Park on her appointment as the Korea Times-Hankook Ilbo Endowed Chair in Korean American Studies at a reception on May 30th! This event is now possible as in-person classes and events have returned, but we encourage the wearing of masks for protective purposes.
Please join us at a special reception honoring Kyeyoung Park,
as well as the launch of a new AASC Press publication: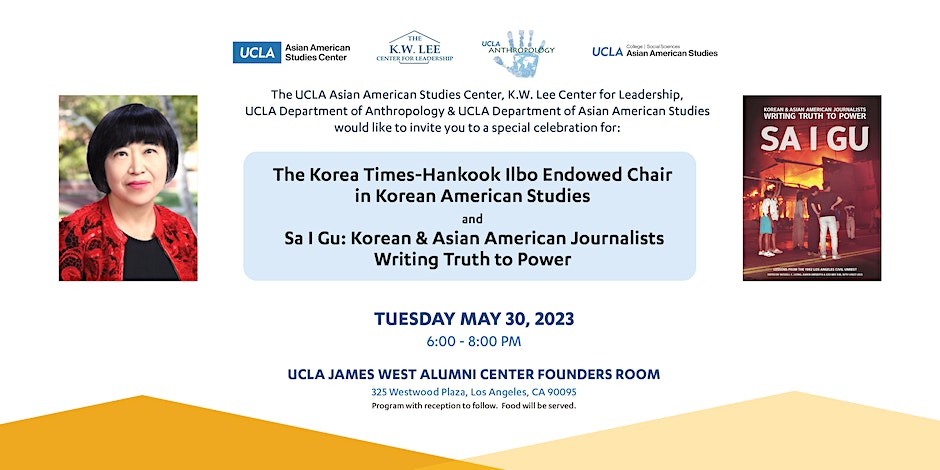 A special celebration for
The Korea Times-Hankook IIbo Endowed Chair
in Korean American Studies
Kyeyoung Park

and

UCLA AASC Press Publication Launch
Sa I Gu: Korean & Asian American Journalists
Writing Truth to Power

Tuesday, May 30, 2023
6:00 PM - 8:00 PM
UCLA James West Alumni Center - Founders Room