Professor Robert Teranishi Awarded 2021-2022 Don T. Nakanishi Award for Outstanding Engaged Scholarship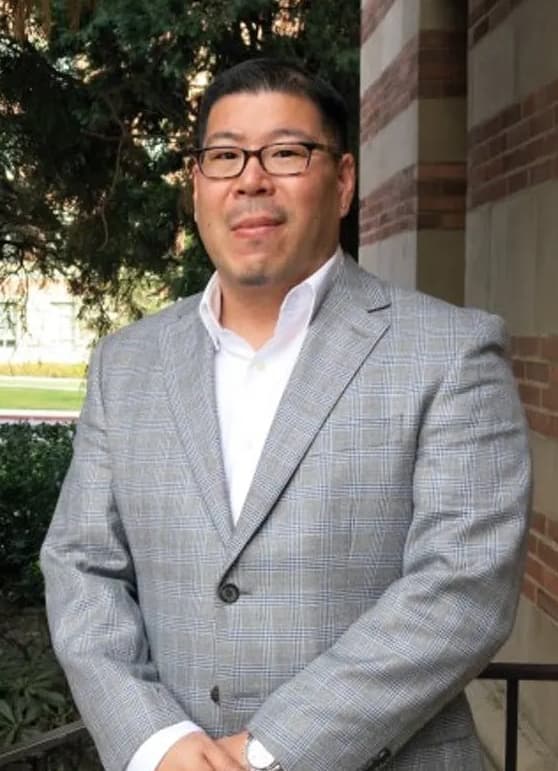 I am very pleased to announce that Professor Robert Teranishi is the 2021-22 recipient of the Don T. Nakanishi Award for Outstanding Engaged Scholarship in Asian American Studies at UCLA.
"Rob has a long and distinguished career that embodies the values and characteristics of Dr. Nakanishi...Rob's scholarship of engagement is designed and operationalized in a manner that expands the boundaries of the academy and in this process advances new public policy interventions to uplift Asian American, Native Hawaiian, and Pacific Islander (AANHPI) communities," said one of several nominators. At UCLA, he has provided tremendous leadership, mentorship, and research as a Professor in the Social Science and Comparative Education Division, the Morgan and Helen Chu Endowed Chair in Asian American Studies, and a member of the Asian American Studies Center's faculty advisory committee. Teranishi is also a project advisor for the Center's AAPI Multimedia Digital Textbook project. He received his Ph.D. from the UCLA Graduate School of Education and Information Studies, Higher Education and Organizational Change.
"His work has expanded our understanding of the nature in which various forms of social stratification impact how AANHPI students access education, he has advanced new approaches regarding the utility of data disaggregation, and he is widely known as the preeminent scholar on all things Asian American and Native American Pacific Islander-Serving Institutions (AANAPISIs)," said a colleague.
He has been invited to testify before the U.S. Congress on numerous occasions, was appointed by President Barack Obama to serve in the U.S. Department of Education's National Board for Education Services, and continues to collaborate with organizations to advance policy priorities for AANHPI communities. In March 2022, he testified before the House Subcommittee on Higher Education and Workforce Investment. Teranishi underscored the need for greater attention to and action on the limitations of the current data systems and practices in higher education. He explained how AANAPISIs can play an important role in modeling innovative ways of leveraging data and research to inform higher education services, practices, and policies. He stressed how this is a particularly important civil rights issue for the AANHPI community because aggregated data is literally rendering the most marginalized and vulnerable groups invisible. A colleague noted, "His ability to connect scholarship to federal advocacy brings visibility to AANHPI student experiences and needs and advances key policy conversations that have the potential to impact educational outcomes for AANHPI students at scale."
The AANAPISI program provides discretionary grants to eligible institutions of higher education across the United States and Pacific Territories to "improve and expand their capacity to serve Asian Americans and Native American Pacific Islanders and low-income individuals." Teranishi has partnered with APIA Scholars to publish eight research reports, with two reports forthcoming in 2022, on subjects such as Native Hawaiians and Pacific Islanders in Higher Education and the experiences of AANHPI English Learners. His research contributions challenge the AANHPI stereotypes, advocate for federal education policies to be inclusive of AANHPI students, highlight the inequities impacting the most underserved within our communities, and bring into focus the importance of AANAPISIs on closing the equity gaps for AANHPI students.
A former student shared, "his approach to uplifting AANHPI communities also includes mentoring and training the next generation of AANHPI researchers and scholars on conducting rigorous research, in order to make significant impacts to our field of study, as well as in public policy and politics...[I]t is because of Rob that so many younger scholars are engaged in community- and policy-based research."
Professor Teranishi expressed, "Don was such an important role model, mentor, and friend for all of us, so this is a very special recognition for me. I've learned so much from him, and he did so much for UCLA and our community broadly through his engaged scholarship."
We are honored to present this well-deserved recognition to Professor Teranishi for his outstanding contributions as an engaged scholar, researcher, mentor, and advocate.
Through the generosity of UCLA faculty, students, staff, and alumni as well as community leaders, an endowment was established that honors the late Professor Emeritus Don T. Nakanishi, who served on the UCLA faculty for thirty-five years and who ably directed the Asian American Studies Center (1990-2010). Among his invaluable contributions to Asian American Studies, Professor Nakanishi co-founded two, national publications: Amerasia Journal (1971) and AAPI Nexus Journal (2003). Professor Nakanishi published widely in the areas of Asian American politics and education, mentored thousands of students, and provided professional and community-based service locally, nationally, and internationally. The Nakanishi Award includes a five-thousand-dollar award. The award rotates annually between faculty and students. The graduate and undergraduate student awards will be given during the 2022-2023 academic year.
Please join me in congratulating Professor Robert Teranishi!
Best wishes,
Karen Umemoto
Helen and Morgan Chu Endowed Director's Chair of the Asian American Studies Center