Professor Ninez A. Ponce Awarded 2019-2020 Don T. Nakanishi Award for Outstanding Engaged Scholarship
I am very pleased to announce that Professor Ninez A. Ponce is the 2019-2020 recipient of the Don T. Nakanishi Award for Outstanding Engaged Scholarship in Asian American Studies at UCLA.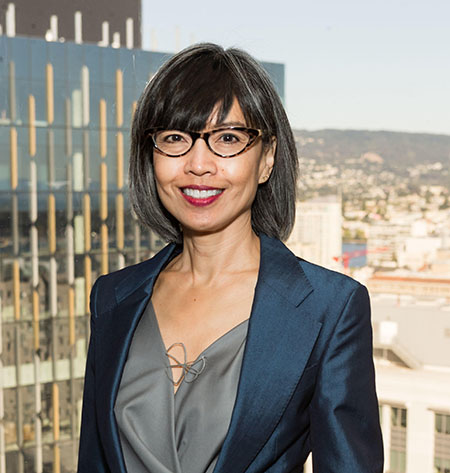 "Dr. Ponce's work is both life-changing and life-saving. She exemplifies the spirit of Dr. Nakanishi's legacy of visibility and representation," said one of several nominators. For over thirty years, Professor Ponce has been a national advocate for Asian Americans, Native Hawaiians, and Pacific Islanders. At UCLA, she provides extraordinary service, leadership, and research as a Professor in the Health Policy and Management Department and member of the Center's faculty advisory committee. During the 2011-2012 academic year, she served as the Asian American Studies Center's Associate Director. She received her Ph.D. in Health Services from UCLA and has authored hundreds of articles.
During the early part of her career, she was Deputy Director of the Asian Health Forum, and worked with community-based organizations, including Oakland's La Clinica de la Raza and Asian Health Services. As a professor, Ponce has compiled a record of professional service by serving on numerous national and other committees focusing on racial and ethnic disparities research. She is now the director of the UCLA Center for Health Policy Research (CHPR), which houses the California Health Interview Survey (CHIS). Under her leadership, UCLA CHPR has emerged as a major advocate for social, racial, and health justice. Currently, she is collaborating with other researchers and community organizations to document and analyze racial disparities of COVID-19, particularly as the inequalities impact Asian Americans and Pacific Islanders.
One of Professor Ponce's major contributions has been helping develop CHIS nearly two decades ago. It is the nation's largest state health survey and provides a detailed picture of the health and health care needs of California's large and diverse population. "It is considered a gold standard for other state-level efforts," said a colleague. Within CHIS, Professor Ponce was a champion for meaningful inclusion of Asian Americans and Pacific Islanders through oversampling, and by developing culturally and linguistically appropriate instruments. This approach has resulted in one of the richest data sets with sufficient subsample of several major Asian ethic groups.
Her dedication to high-quality, evidence-based research combined with her commitment to eliminating racial and ethnic health disparities and achieving health equity for all, has contributed tremendously to the Native Hawaiian and Pacific Islander (NHPI) communities both locally and nationally. A community partner stated, "Without disaggregated data, we are invisible and Dr. Ponce has continued to be a staunch advocate for our data and for our visibility." Professor Ponce was asked to mentor and train NHPI graduate students on NHPI COVID-19 data collection and analysis. She immediately began working with NHPI students from around the country, helping to build a pipeline of the next generation of NHPI scientists, advocates, and leaders who will help drive change in the NHPI community. "The data she and her team of students have worked on have been critical to our mission, and have been cited in various local and national news stories, used by NHPI community organizations across the country to advocate for the disaggregation and reporting of our data, and was recently used for a testimony by a member of our Response Team before the U.S. House of Representatives' Ways and Means Committee," expressed a community leader. The community leader continued, "A new COVID-19 dashboard she's building will highlight NHPI case and death rates in states and counties with significant NHPI communities, something that our government has failed to provide us."
Colleagues illustrated how Professor Ponce is a brilliant researcher, remarkable institution builder, caring and devoted mentor, a committed voice addressing racial and economic injustices, and an effective partner with numerous community and advocacy groups. One nominator said, "She is tireless and tenacious to collect data unique to the AANHPI populations. She has the respect of her academic peers to know where to get the data and how to use them both for advocacy to put the issues of our communities in the public arena, and the academic respect for her analytic acumen."
Upon learning she received the Nakanishi Award, Professor Ponce expressed, "I am so thrilled and honored. I was mentored by Don, and miss him when I think how my work would make his eyes twinkle." She will be using the funds to set up a NHPI COVID-19 Response Research Fund to award stipends to students she has been working with on collecting and analyzing NHPI data.
We are honored to present this well-deserved recognition to Professor Ponce for her outstanding contributions as an engaged scholar, researcher, mentor, and advocate.
Through the generosity of UCLA faculty, students, staff, and alumni, as well as community leaders, an endowment was established that honors the late Professor Emeritus Don T. Nakanishi, who served on the UCLA faculty for thirty-five years and who ably directed the Asian American Studies Center (1990-2010). Among his invaluable contributions to Asian American Studies, Professor Nakanishi co-founded two national publications: Amerasia Journal (1971) and AAPI Nexus Journal (2003). Professor Nakanishi published widely in the areas of Asian American politics and education, mentored thousands of students, and provided professional and community-based service locally, nationally, and internationally. The Nakanishi Award includes a five-thousand-dollar award. The award rotates annually between faculty and students. The graduate and undergraduate student awards will be given during the 2020-2021 academic year.
Please join me in congratulating Professor Ninez A. Ponce!
Best wishes,
Karen Umemoto, Director