2014-15 Don T. Nakanishi Award for Outstanding Engaged Scholarship Awarded to Graduate Student Brittany N. Morey and Undergraduate Student Jessica Thach
Dear Alumni and Friends,
I am very pleased to announce that Graduate Student Ms. Brittany N. Morey and Undergraduate Student Ms. Jessica Thach are the recipients of the 2014-15 Don T. Nakanishi Award for Outstanding Engaged Scholarship in Asian American and Pacific Islander Studies at UCLA.
Graduate Recipient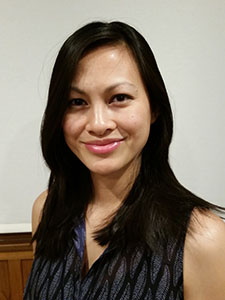 Ms. Brittany N. Morey received her B.S. in Biology, M.P.H. from the Department of Community Health Sciences, and is currently a Ph.D. student at the Fielding School of Public Health. Ms. Morey was highly regarded and recommended for the award because of her deep commitment to community through research, teaching, and activism. A community leader noted, "We need to recognize individuals who have such a great sense of how research should benefit community, and also how to interweave community in to the process of research." Through community-based participatory research with the Asian and Pacific Islander Obesity Prevention Alliance (APIOPA), Morey was instrumental in helping them collect much needed data on the Tongan community's fear of safety in using a park located next to their church. Morey trained Tongan youth to conduct in-depth surveys; she analyzed the data, and helped the Tongan community members present the findings to Los Angeles County Supervisor, Mark Ridley-Thomas' office. With the results of the survey, APIOPA advocated for a walking trail at the park. Just recently the trail was finished, and the park staff even put up exercise signs translated in to Tongan. Many of the Tongan residents felt this success would not be possible without the work Ms. Morey provided to the community. As an undergraduate student, Morey also worked on childcare development issues for the Center for the Pacific Asian Family.
Moreover, Ms. Morey's academic pursuits have been stellar. She recently published a solo-authored paper, "Environmental Justice for Native Hawaiians and Pacific Islanders in Los Angeles County" in the Journal of Environmental Justice. It was nominated for the "best paper" award for the Asian and Pacific Islander Caucus of the American Public Health Association. The article is among the very few studies that empirically documents the environmental justice concerns related to Pacific Islander communities. Morey used cutting edge geographical information systems (GIS) techniques alongside statistical analysis.
Her dissertation builds on this line of research by examining the neighborhood factors that may be related to risk for breast cancer among Asian American women. Studies have shown that cancer is the leading cause of mortality among Asian Americans (by contrast, heart disease is the leading cause of mortality for all other ethnic groups in the nation). A growing body of research demonstrates that neighborhood conditions are related to various types of illnesses, but none of these studies have evaluated cancer risk among APIs. Accordingly, Morey's research will evaluate whether living in poor neighborhoods may increase risk, and whether living in Asian ethnic enclaves may mitigate risk. This is an exciting dissertation topic that uses newly available data from the California cancer registry.
Ms. Morey's scholarship is also complemented by her teaching activities. She was a special reader for the class, "Health Issues for Asian Americans and Pacific Islanders: Myth or Model" (COM HLTH M140). In addition, Brittany is the Managing Editor of Reviews for the Journal of Health and Social Behavior. For the many reasons above, a professor expressed, "I believe that she fully embodies the spirit of 'engaged scholarship'."
Undergraduate Recipient

Ms. Jessica Thach will be graduating this June 2015 with a B.A. in Asian American Studies and a Minor in Education from UCLA. Ms. Thach is considered an exceptional student who is deeply committed to community through research and activism. A professor stated "In my class and in her role as a Higher Opportunity Program for Education (HOPE) leader, she models how college students can use their academic talents to help their community." When she served as Assistant Director and Student Project Director for HOPE -- an after school academic enrichment and empowerment program for Southeast Asian students at San Gabriel High School -- she worked with Advancing Justice to develop youth participatory action research through digital media. A community leader noted, "I knew that she had a passion for working towards educational equity and I witnessed her impact on the core group of HOPE students, many of whom went on to graduate high school and attend 4-year universities as a result of her mentorship."
Ms. Thach has also greatly contributed to developing undergraduate service-learning courses at UCLA. Thach served as the liaison between HOPE and an Asian American and Pacific Islander Labor Issues class, in which UCLA students completed two projects for HOPE high school students in Westminster and San Gabriel Valley. The class project resulted in thirty comic books of HOPE students and HOPE staff. In addition, the class organized a reception for HOPE students to present the completed comic books and acquaint the high school youth with issues covered in the labor issues class, such as anti-colonial mentorship and shared leadership, and the important roles that youth play within communities.
Beyond the classroom, Ms. Thach has developed a strong background in community service and leadership, through working with several non-profit organizations. In her work with Chinatown Community for Equitable Development (CCED), she assisted with efforts to help long-time Los Angeles Chinatown residents with problems of gentrification and displacement. She has worked with youth as a teaching intern, high school mentor, and summer team leader for the East Bay Asian Youth Center (EBAYC) in Oakland, where she learned to connect with students locally in culturally relevant and empowering ways. As one community leader commented, "Jessica is in the top few of such leaders because of her passion for underserved communities, methods of inspiring students, and her track record of executing programs." In addition, she has held several leadership positions with UCLA's Vietnamese Student Union and played major roles in strengthening their outreach efforts and putting on their annual high school conferences and admit weekends. A community leader expressed, "She cares deeply and thinks critically about social justice and educational equity."
It is the pleasure of the Asian American Studies Center to recognize Ms. Brittany N. Morey and Ms. Jessica Thach for their outstanding practical research, publications, teaching, training, and/or educational service to Asian American and Pacific Islander communities.
Through the generosity of UCLA faculty, students, staff, and alumni as well as community leaders, an endowment was established that honors Professor Emeritus Don T. Nakanishi, who served on the UCLA faculty for thirty-five years and who ably directed the Asian American Studies Center (1990-2010). Among his invaluable contributions to Asian American Studies, Professor Nakanishi co-founded two, national publications: Amerasia Journal (1971) and AAPI Nexus: Asian American and Pacific Islander Policy, Practice, and Community Research (2003).Professor Nakanishi published widely in the areas of Asian American politics and education, mentored thousands of students, and provided professional and community-based service locally, nationally, and internationally.
The Nakanishi Award includes a $2,500 cash prize award for each recipient. The award rotates annually between faculty and students. The faculty award will be given during the 2015-2016 academic year.
Please join me in congratulating Ms. Brittany N. Morey and Ms. Jessica Thach!
Best wishes,
David K. Yoo
Director & Professor