Professor Paul M. Ong Awarded 2013-14 Don T. Nakanishi Award for Outstanding Engaged Scholarship
Dear Alumni and Friends,
I am very pleased to announce that Professor Paul M. Ong is the 2013-14 recipient of the Don T. Nakanishi Award for Outstanding Engaged Scholarship in Asian American Studies at UCLA.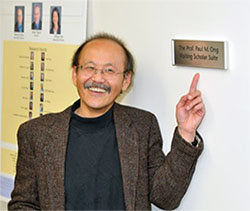 A long-time member of the Center's Faculty, Professor Ong has dedicated his career of 29 years at UCLA to strengthen the bridge between "gown and town." He holds academic appointments with the Luskin School of Public Affairs, Asian American Studies, and the Institute of the Environment and Sustainability. He has also provided tremendous service and leadership for the UCLA campus, most recently as the Director of the Center for the Study of Inequality and Co-Founder and Senior Editor of the national AAPI Nexus Journal: Policy, Practice, and Community. Professor Ong received his B.A. from the University of California, Davis, a Masters in Urban Planning from the University of Washington, and the Ph.D. in Economics from the University of California, Berkeley.
A prolific scholar, Professor Ong has authored or edited 9 books and published over 70 journal articles and papers, including the influential and often-cited State of Asian American series of policy-related studies for which he served as Research Director. Professor Ong has taught key service-learning courses for both Asian American Studies and Urban Planning at the undergraduate and graduate levels. In particular, Professor Ong has offered courses that are multidisciplinary and that are engaged with community-based research.
Colleagues, community leaders, and students overwhelmingly endorsed Professor Ong for the award. One community leader commented, "His entire career has been about having his research and scholarship translated into useful information to help the API community." Another community leader affirmed, "Dr. Ong has always sought to pursue research that is relevant to key issues in API communities, and more importantly, to work with community organizations who are engaged in those issues...At the same time, Dr. Ong maintains the highest standards of academic integrity in the research -- he provides us with accurate data, analysis and the facts, even if sometimes the facts run counter to what we may have assumed -- which is ultimately what is most needed and useful to inform our work."
At UCLA, Professor Ong's innovative courses have pushed the academic boundaries outside the classroom in meaningful ways, as one faculty colleague stated, "His work has not only set a high standard for scholars with similar aspirations, but also been critical in bringing attention and much needed resources to many communities in Los Angeles. Without scholars like Professor Ong, the AAPI community in Los Angeles and in the nation would remain invisible or absent in public policy debates" As one student described, "Professor Ong's intentions of partnering students with community partners was important in providing students like me, an opportunity to gain more cultural competency...the experience has guided my career decisions to work in the nonprofit sector...I am proud to know that our research was used as a tool for community building."
We are honored to present this well-deserved recognition to Professor Ong for his lasting efforts of putting research at the service of the community and his active role in engaging the public sector and policymakers in partnerships that lead to significant change.
Through the generosity of UCLA faculty, students, staff, and alumni as well as community leaders, an endowment was established that honors Professor Emeritus Don T. Nakanishi, who served on the UCLA faculty for thirty-five years and who ably directed the Asian American Studies Center (1990-2010). Among his invaluable contributions to Asian American Studies, Professor Nakanishi co-founded two, national publications: Amerasia Journal (1971) and AAPI Nexus (2003). Professor Nakanishi published widely in the areas of Asian American politics and education, mentored thousands of students, and provided professional and community-based service locally, nationally, and internationally. The Nakanishi Award includes a five thousand dollar award. The award rotates annually between faculty and students. The graduate and undergraduate student awards will be given during the 2014-2015 academic year.
Please join me in congratulating Professor Paul M. Ong!
Best,
David
Director & Professor
UCLA Asian American Studies
Center & Department