Housing Insecurity Persists for Renters of Color amid the COVID-19 Pandemic, 2022
Housing Insecurity Persists for Renters of Color amid the COVID-19 Pandemic, 2022
Authors: Paul Ong, Silvia R. Gonzalez, and Paula Nazario UCLA Center for Neighborhood Knowledge, Latino Politics and Policy Initiative, Asian American Studies Center, and Chicano Studies Research Center.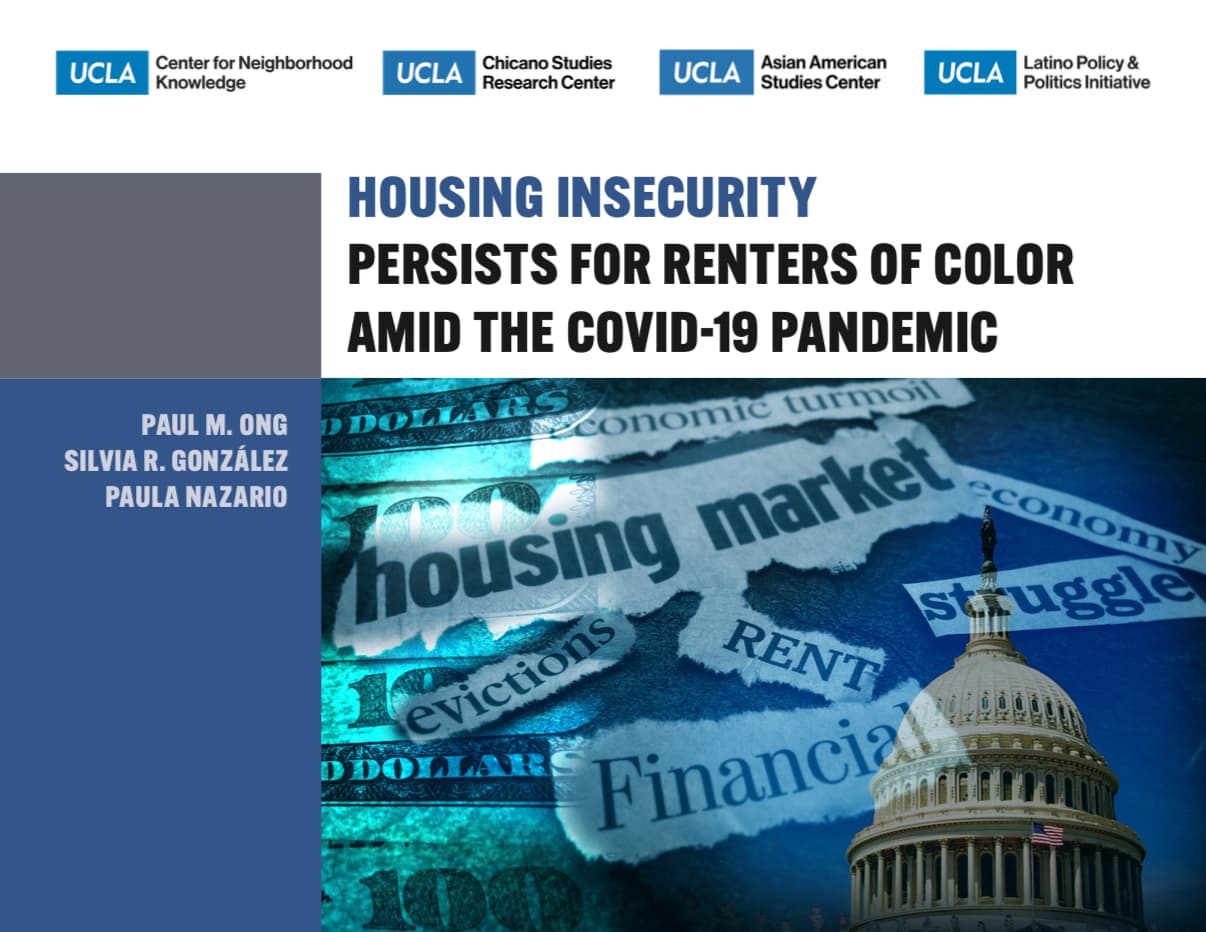 The COVID-19 pandemic has deepened California's chronic economic and housing inequalities for low-income and people-of-color households. This research brief uses data from the US Census Bureau's Household Pulse Survey (HPS) and California's Emergency Rental Assistance Program (ERAP) to analyze the experience of renters and their participation in critical emergency rental-assistance programs. We find significant disparities linked to income class and race/ethnicity among California renters who are experiencing financial distress and who have participated in rental relief programs. The research echoes recent findings showing that barriers to access--for instance, difficulty accessing the online application, delays in approval, and inadequate language access--have prevented many struggling renters from benefiting from ERAP.
Main findings include:

1. Low-income renters and renters of color are more likely than their white counterparts to struggle to keep up with rent payments.

2. Although more than 534,000 California renters applied for the state's rental assistance program between March 2021 and March 2022, majority of renters experiencing housing-related stress did not benefit from rent relief.

3. Among renters who received rent relief, Asian and Latino renters were severely underrepresented relative to whites, even after accounting for income, age, and metropolitan area of residence.
Recommendations:

1. Extend California's ERAP until unemployment rates for all racial/ethnic groups fall below pre-pandemic rates. This extension will help ensure that all eligible renters can apply for and receive rental assistance.

2. Extend emergency safety-net programs such as those that prevent utility shut-offs, offer debt forgiveness, and provide food security for families and children until unemployment rates for all racial/ethnic groups fall below pre-pandemic rates.

3. Design and implement concerted efforts to reach eligible renters, including outreach programs that partner with trusted community-based organizations to ensure that renters receive rental assistance.
Report Link: https://knowledge.luskin.ucla.edu/wp-content/uploads/2022/04/Housing_Insecurity_COVID_Report.pdf
Read UCLA Newsroom Story: Latino and Asian households in California lag in access to state rent assistance progra; https://newsroom.ucla.edu/releases/latino-and-asian-households-in-california-lag-in-access-to-state-rent-assistance-program