2016-17 Don T. Nakanishi Award for Outstanding Engaged Scholarship Awarded to Graduate Student C. Aujean Lee and Undergraduate Student Emily Taing
Dear Faculty, Staff, Students, Alumni and Friends,
I am very pleased to announce that Graduate Student Ms. C. Aujean Lee and Undergraduate Student Ms. Emily Taing are the recipients of the 2016-17 Don T. Nakanishi Award for Outstanding Engaged Scholarship in Asian American and Pacific Islander Studies at UCLA.
Graduate Recipient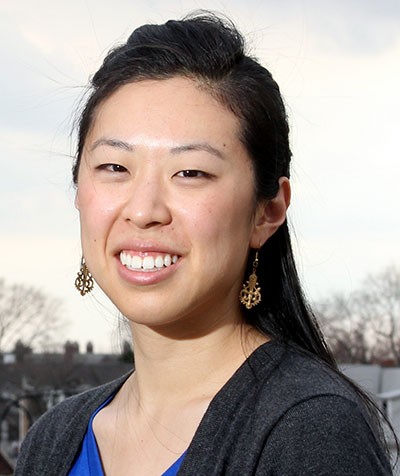 Ms. C. Aujean Lee received her B.A. in Psychology and Asian American Studies at UCLA, Masters in Urban Planning from the University of Illinois at Urbana-Champaign, and is currently a Ph.D. candidate in the UCLA Urban Planning Department. She has over a decade of affiliation with the Asian American Studies Center, which includes working on the AAPI Nexus Journal first as an assistant managing editor and then later as a guest editor; serving as a student committee member for Asian American Studies Department; staffing EthnoCommunications; and conducting research for the Center's "Building Economic Security Over a Lifetime" project funded by the Ford Foundation. On campus, she founded the Asian American and Pacific Island Studies Undergrad Association in 2008 and the Asian American and Pacific Island Graduate Student Group in 2014. The latter is a cross-discipline student group that gives students opportunities to present their research on AAPIs. "She is a model of a student who combines academic excellence with direct engagement with the real world, not an easy task at UCLA given the demands of graduate studies," said a professor.
Ms. Lee was highly regarded and recommended for the award because of her deep commitment to community engagement through research, teaching and activism. Ms. Lee's academic goal has always been to work at the intersections of research and community engagement, using academic scholarship to affect social change. Her Master's thesis examined how the foreclosure crisis affected Asian American community-based organizations and homeowners, a topic that has been understudied. She continues this line of inquiry in her current dissertation research, which analyzes ways that Asian American ethnic neighborhoods can serve as a protective factor for Asian Americans and homeownership, which typically is a household's single largest asset. Most impressively, Ms. Lee was lead author on an article, "On the Front Lines of Immigrant Homeownership: Asian American Nonprofits during the Great Recession," which will be published in the Nonprofit and Voluntary Sector Quarterly. She is currently part of a graduate student research team who recently received funding from the Institute on Inequality and Democracy at UCLA for a project, "Social Protections in the New Administration: Nonprofit Responses Amidst Political Changes," which will examine how nonprofits have reacted to and dealt with rapid policy changes after the November 2016 Election, in particular nonprofits that work on immigrants' rights, healthcare, and environmental protections. She also received the National Science Foundation Graduate Research Fellowship to support her graduate studies.
Ms. Lee's invaluable scholarship is also complemented by her extraordinary teaching activities. As a Teaching Assistant for AAS185, she was critically important in guiding student work with the Sawtelle Japantown Association, which was fighting to preserve the neighborhood's historical and cultural identity as an ethnic community. She also taught a capstone class in Urban Planning focusing on lessons learned over the last quarter century since the 1992 Unrest/Uprising. One of the main foci was the impacts on Korean Americans. In both courses she taught students to conduct community-relevant applied research, and to interact respectively with community leaders as equal partners. She will be teaching the "Planning with Minority Communities" (UP 141) during Summer 2017. As one colleague noted, "I admire Aujean's drive to always anchor her research and teaching in the needs of communities, and her efforts to build bridges between UCLA and the outside community."
Moreover, Ms. Lee's amazing community voluntarism includes, but certainly not limited to being a board member and fundraiser for the K. W. Lee Center for Leadership, Los Angeles, CA (2011-2016), research consultant for the Koreatown Youth and Community Center (2010-2011) and the director of the Korean American Youth Leaders in Training Program (Summer 2009). As one nominator expressed, "Ms. C. Aujean Lee is the perfect awardee because of her numerous contributions to bridging Asian American Studies to the community through voluntarism, teaching, research and publication."
Undergraduate Recipient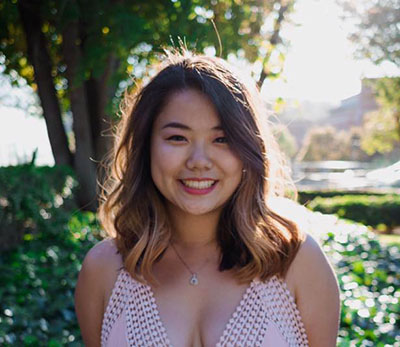 Ms. Emily Taing will be graduating this June 2017 with a B.A. in International Development Studies and Asian American Studies, and a minor in European Studies from UCLA. Ms. Taing is considered an exceptional student who is sincerely dedicated to community through research and activism. A professor stated, "I have taught Emily in two of my courses...in both classes, Emily was one of the top two students. She produces consistently excellent work that thoughtfully connects community to culture, and she is vital participant in class discussion."
Ms. Taing's record of academic brilliance is evident in the honors she has earned during her academic career. As a junior summer research fellow at the Center for Khmer Studies in Siem Reap, Cambodia, she conducted field research and literature reviews on assimilation strategies implemented by anti-human trafficking nongovernment organizations to assist victims of sex trafficking, in particular how to become financially sustainable and self-advocate. She also collaborated with local monks to create lesson plans and teach intermediate English to high school students. Through her work as an undergraduate research assistant for Professor Patrick Heuveline, she contributed greatly to a study on the long-term consequences of orphan hood in Cambodia following the displacement of population caused by the Khmer Rouge. This trajectory of engaged scholarship culminated in her Asian American Studies Departmental Honors senior thesis, "Cambodian Women and Remembering across Generations: Refugees, Trauma, and Resilience" focusing on the factors for Cambodian refugee, migration experience, and intergenerational trauma among Cambodian women in the United States. She has noticeably demonstrated a deep and sustained interest in Cambodia, the Cambodian diaspora and social justice.
Beyond the classroom, Ms. Taing has developed a strong background in community service and leadership, through working with several non-profit organizations, such as Asian Americans Advancing Justice, a legal organization established across the country to promote a fair and equitable society for all by working for civil and human rights and empowering Asian Americans and Pacific Islanders and other underserved communities. As a volunteer Mandarin translator, she worked with the phone banking initiative to encourage Mandarin speakers to vote in local, state and national elections and answer any voting rights related questions. She also is an executive board member of UCLA TASSEL, whose mission is promote "Teaching And Sharing Skills to Enrich Lives" of children, their families, and local teachers in Cambodia by fundraising to continue providing quality English education, food, medical supplies, clothes, and much more.
Remarkably, she has served as a congressional district intern for the District Office of Congressman Ted W. Lieu (CA-33) in Los Angeles, California; a parliamentary intern with the Houses of the Oireachtas: National Parliament of Ireland in Dublin, Ireland; and as an Undergraduate Legal Intern for the Lawyers' Committee for Civil Rights Under Law, in Washington D.C. Clearly, Ms. Taing cares deeply and thinks critically about social justice and improving the lives of Asian American communities through engaged scholarship, in particular the Cambodian community which is rarely represented in the literature and field of Asian American Studies. Next fall, Ms. Taing will begin a Master's degree program at the Columbia University's Center for the Study of Ethnicity and Race.
It is the pleasure of the Asian American Studies Center to recognize Ms. C. Aujean Lee and Ms. Emily Taing for their outstanding practical research, publications, teaching, training, and educational service to Asian American and Pacific Islander communities.
Through the generosity of UCLA faculty, students, staff, and alumni as well as community leaders, an endowment was established that honors the late Professor Emeritus Don T. Nakanishi, who served on the UCLA faculty for thirty-five years and who ably directed the Asian American Studies Center (1990-2010). Among his invaluable contributions to Asian American Studies, Professor Nakanishi co-founded two, national publications: Amerasia Journal (1971) and AAPI Nexus: Asian American and Pacific Islander Policy, Practice, and Community Research (2003).Professor Nakanishi published widely in the areas of Asian American politics and education, mentored thousands of students, and provided professional and community-based service locally, nationally, and internationally.
The Nakanishi Award includes a $2,500 cash prize award for each recipient. The award rotates annually between faculty and students. The faculty award will be given during the 2017-2018 academic year.
Please join us in congratulating Ms. C. Aujean Lee and Ms. Emily Taing!
Best wishes,
Marjorie Kagawa Singer, Interim Director and Melany De La Cruz-Viesca, Assistant Director