Professor Lucy Mae San Pablo Burns Awarded 2017-18 Don T. Nakanishi Award for Outstanding Engaged Scholarship
I am very pleased to announce that Professor Lucy Mae San Pablo Burns is the 2017-18 recipient of the Don T. Nakanishi Award for Outstanding Engaged Scholarship in Asian American Studies at UCLA.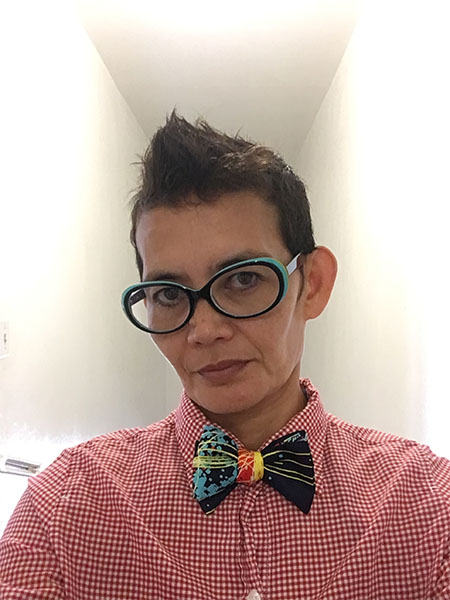 Professor Lucy Mae San Pablo Burns has provided tremendous service and leadership at UCLA as an Associate Professor in the Asian American Studies Department and member of the Center's faculty advisory committee. She exemplifies, "a model of engaged scholarship that creates linkages between research, art, and community activism, between faculty, students, and artists. Her work this year has been inspiring to so many of us on and off campus," said a colleague. Professor Burns also holds an academic appointment with World Arts and Cultures. She received her Ph.D. in English from the University of Massachusetts at Amherst. She is the author of the award-winning book Puro Arte: Filipinos on the Stages of Empire, published by NYU Press.
This past year, Professor Burns worked tirelessly to translate her own scholarship as well as others' into a series of events and projects that brought together hundreds of students, faculty, and community members -- in particular, a performance project entitled "Refugee (Re)Enactment" in collaboration with singer/songwriter/alumni Tiffany Lytle, Dr. Jolie Chea, and Professor Thu-huong Nguyen-vo,. Moreover, she organized a series of events including talks, poetry readings, and panels entitled, "The Philippines and its Elsewhere" exploring the Philippines as a launching point for discussions of poetics, migration, global citizenship, area studies, higher education, knowledge production, and performance in further developing the field of critical Filipino Studies. Related to this series is her work with the FilipinX community art collective KITAKITS, which coordinates art events and provides resources for Filipin@ American multi-disciplinary artists living and/or working in Los Angeles. Their collective collaboration took the form of a community literary reading with immigrant poets Joi Barrios and Zosimo Quibilan Jr. held in historic Filipinotown. She also supported KITAKITS's community reading and panel discussion "PilipinX America: Southern California Pinays Voice Out" as part of the recent Pasadena Litfest.
"Refugee Re/Enactments" is a series of activities that remembers and revives the history of social and political engagement at UCLA. On May 5, 1970, UCLA students gathered at Dickson Court and Royce Quad to protest the US war in Vietnam and its bombings of Cambodia and Laos. Noted to be the largest antiwar demonstration on a college campus at the time, this event was part of a series of political protest staged by students beginning in the late 1960s and lasting through the 1970s. Occupying campus grounds, students at UCLA asserted their opposition to a deadly war that had claimed hundreds of thousands of lives and caused the utter destruction of a land overseas. On April 17, 2018, a performance event featuring the music and choreography of Tiffany Lytle, followed by a panel discussion, that drew an audience of approximately two hundred students. The Refugee Re/Enactments project leaders are working with undergraduate and graduate students, staff, and various units on campus including the UCLA Arts Engagement Network and Residential Life as this project continues with another activity in this series, the "100 Years of Protest at UCLA."
Professor Burns has a long record connecting the university to the arts and community. She redesigned her theater class, Asian American Studies 121, to work on site at the Aratani Theater of the Japanese American Cultural and Community Center. The students met at the theater to work on archiving visual materials, such as photographs and posters that document the history of Asian American performance at the Aratani Theater. A former student of her AAS 191E: Transnational Imaginaries in Asian American Theater and Performance class commented that the class was, "...one of the most rigorous and tantalizing, not to mention rewarding, gainful, and dare I say, legendary educational experiences in the decades I have been a student." Professor Burns has also collaborated with key Asian American arts organizations and artists, including R. Zamora Linmark's "But, Beautiful" at the East West Players Theater, as well as a humanities consultant for the play, "Global Taxi Drivers," at TeAda Productions, a community-based theater company that creates original plays rooted in the experiences of immigrants and refugees. Colleagues strongly endorsed her for the award. "She is exactly the type of educational leader that this award sets out to recognize for their outstanding ability to integrate their commitments to community, scholarship, teaching, and service," said one nominator.
We are honored to present this well-deserved recognition to Professor Burns for her outstanding contributions as an engaged scholar, teacher, and dramaturg.
Through the generosity of UCLA faculty, students, staff, and alumni as well as community leaders, an endowment was established that honors the late Professor Emeritus Don T. Nakanishi, who served on the UCLA faculty for thirty-five years and who ably directed the Asian American Studies Center (1990-2010). Among his invaluable contributions to Asian American Studies, Professor Nakanishi co-founded two, national publications: Amerasia Journal (1971) and AAPI Nexus (2003). Professor Nakanishi published widely in the areas of Asian American politics and education, mentored thousands of students, and provided professional and community-based service locally, nationally, and internationally. The Nakanishi Award includes a five thousand dollar award. The award rotates annually between faculty and students. The graduate and undergraduate student awards will be given during the 2018-2019 academic year.
Please join me in congratulating Professor Lucy Mae San Pablo Burns!
Best wishes,
Karen Umemoto, Director