Professor Grace Kyungwon Hong is the 2015-16 recipient of the C. Doris and Toshio Hoshide Distinguished Teaching Prize in Asian American Studies
Dear Alumni and Friends,
I am pleased to announce that Professor Grace Kyungwon Hong of the Department of Asian American Studies and Gender Studies is the 2015-16 recipient of the C. Doris and Toshio Hoshide Distinguished Teaching Prize in Asian American Studies at UCLA.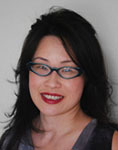 Professor Hong is the author, most recently, of Death Beyond Disavowal: The Impossible Politics of Difference. She is also author of The Ruptures of American Capital: Women of Color Feminism and the Culture of Immigrant Labor and the co-editor of Strange Affinities: The Gender and Sexual Politics of Comparative Racialization. She is also the co-editor of the Difference Incorporated book series at the University of Minnesota Press. Professor Hong received her Ph.D. in Literature from the University of California, San Diego as well as her B.A. and M.A. from UCLA.
As a teacher, Professor Hong has developed courses in areas such as women of color feminism, Asian American culture, and theories of comparative racialization. A student in support of her nomination commented: "Not only has Professor Hong proven her support in my academics, but she has always been very understanding of my schedule, mental health, and physical health...The flexibility Professor Hong offered showed me that not only was she willing to push me academically, but she also understood the struggles of being a student."
One graduate student who has worked with Professor Hong over a number of years said, "I really appreciated Professor Hong's ability to make all of her students comfortable in the classroom, as well as giving all of us the space to talk and think -- no matter what our styles of learning were. It was in these spaces that my current dissertation project developed and I am forever grateful to Professor Hong's enthusiasm, knowledge, and care that has shaped my work."
Another graduate student stated: "She held us to high standards and expected all of us to meet them, demanding nothing less than our best because she saw our potential and what we could do, even before we knew it ourselves. She constantly pushed us beyond our intellectual limits, encouraged us to think critically, question the easy answers, and answer the difficult ones."
Professor Hong has been active in the Asian American Studies Center since joining the UCLA faculty in addition to her service to the Departments of Asian American Studies and Gender Studies. She has often served on selection committees for student fellowships, scholarships and academic prizes. In March 2016, she conducted a graduate workshop to give students a behind the scenes understanding of the writing and publication process.
The late C. Doris Hoshide, Class of 1934, established the teaching prize to recognize an outstanding professor in Asian American Studies. She and her husband were longtime supporters of Asian American Studies at UCLA. The Hoshide Prize includes a one thousand dollar award.
Please join me in congratulating Professor Hong!
Sincerely,
David K. Yoo
Director & Professor