Who Is Dr. James Yamazaki?
Dr. James N. Yamazaki, at the age of 33 in 1949, was the lead physician of the U.S. Atomic Bomb Medical Team assigned to Nagasaki to survey the effects of the bomb. This bomb was a deliberate act of destruction that destroyed human bodies, brains, and genes for generations.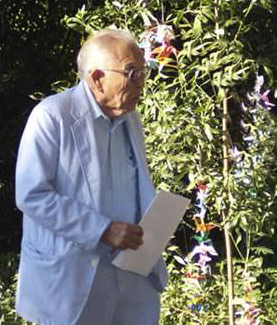 Dr. James Yamazaki.
The world had to wait another 40 years, until 1986, to experience, once again, the effects of nuclear radiation, this time during the accidental leakage of the Cherynobl nuclear reactor in the then Soviet Union.
From that time onwards to today, 2006, Dr. Yamazaki, UCLA professor emeritus of pediatrics, has charted the effects of the atomic bomb on three generations of Japanese children, women, and men. He has shared his knowledge, experience, and insights on other nuclear explosions in the Marshall and Bikini Islands, and elsewhere in the world.
A Japanese American physician who fought in the U.S. Army during World War II, Dr. Yamazaki is a pediatrician and physician emeritus at UCLA, an anti-nuclear war activist, and a speaker through the United States and Asia.