From Japan to America: Medicine Was Always in My Family
My father emigrated from Japan to America. He arrived in San Francisco in 1904 and, encouraged by his older brother, a physician, intended to study medicine too.
However, when my father found himself surrounded by newly arrived Japanese immigrants, by anti-Japanese hostility, and by the catastrophe of the 1906 earthquake that destroyed much of the city, he joined an exodus of Asians to Los Angeles.
He then enrolled at the Berkeley Divinity School in New Haven, Connecticut where he studied for the ministry. After he completed his seminary studies he began his life's work at St. Mary's Mission in uptown New York, one of the small Japanese American enclaves in the city.
Then my mother, to whom he was betrothed to ten years earlier arrived from Japan. Both of them established a vibrant sanctuary for children of newly arrived immigrants, together with a small chapel, auditorium, and living space for the family.
I was born in 1916, the second child of four. In 1920, my grandmother, who was then 72, came to live with our family. She was born in 1848, five years before Commodore Perry steamed into Edo to open feudal Japan to the West. She lived with us in our home until her death at 86, thirteen years after arriving in the U.S. Our gentle and gracious grandmother somehow connected us to the Japan of her yesteryear and enable us to link what happened in the past to our present and future.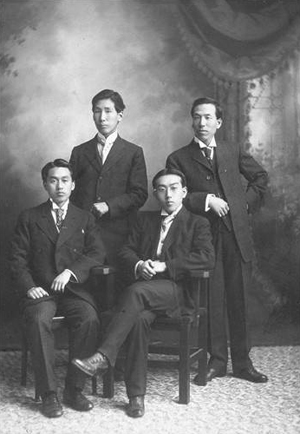 My father with fellow student immigrants, circa 1905-1906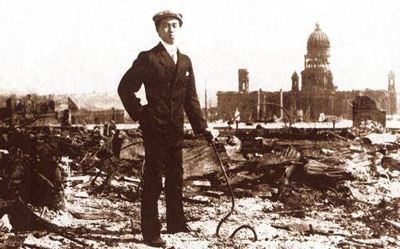 Exodus to Los Angeles after 1906 San Francisco earthquake.