Missing in Action
After completing my medical education in Wisconsin, I was assigned to the 106th Infantry Division as a Combat Medic (Battalion Surgeon). At the Battle of the Bulge, I was captured and imprisoned. As a prisoner of war, I witnessed from the ground the escalating aerial war over Germany. But as a prisoner I was unaware of the bitter fighting on the Pacific Front or the fiery aerial onslaught of our B 29 bombers upon Hamberg and Dresden, or the destruction of 65 cities in Japan. While at a rehabilitation center, some of us 106th Infantry Division POWs got news of the dropping of the atomic bomb in Hiroshima and Nagasaki and Japan's surrender a few days later. We didn't shout and cheer; we still grieved for the buddies we left behind in the snow-covered Ardennes Forrest.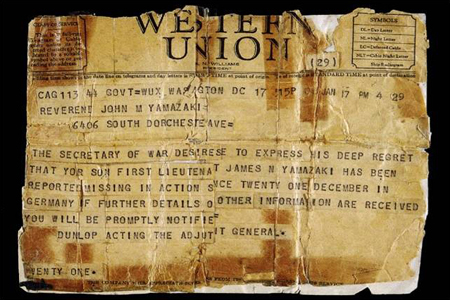 Western Union telegram sent to my father, not to my wife, Aki.
But because the U.S. media only offered sparse information about the bombing of Hiroshima and Japan, the enormity of the human destruction and tragedy did not sink into my mind. Following my discharge from the Army in 1946, I continued my medical training as a resident at the Childrens' Hospitals in Philadelphia and Cincinnati for the next three years.