PilipinX America: Southern California Pinays Voice Out, Reading and Panel Discussion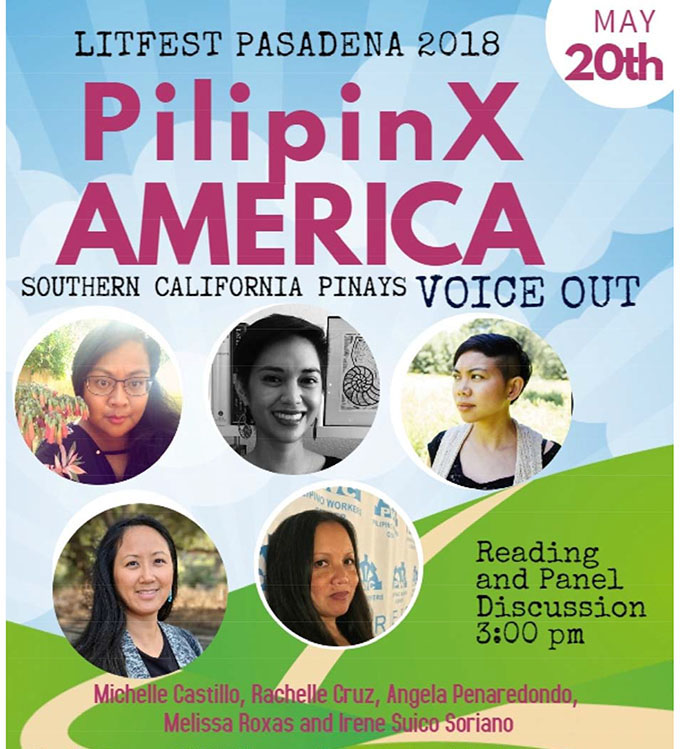 Our landscape of PilipinX poetry is transnational, immigrant, queer, second generation and as diverse as our personal histories and circumstances. As educators, healers, artists, human rights and nonhuman animal activists, we reclaim spaces, battle erasure, create pleasures and render the publishing, dissemination, and reading of poetry as socially engaged practices that keep the communities we live and work in, aware and involved. We situate our works in intersectional and feminist social spaces where conversations about race, gender, class, ability, ethnicity and identities are deemed crucial to our survival and our well-being.
Featuring:
Michelle Castillo
Rachelle Cruz (God's Will for Monsters)
Angela Penaredondo (All Things Lose Thousands of Times)
Melissa Roxas
Irene Suico Soriano (Primates from an Archipelago)
*Book signing after reading/panel discussion*
TO RSVP: https://www.facebook.com/events/193072277950490
An official Litfest Pasadena 2018 program co-presented with the UCLA Asian American Studies Center, KITAKITS-LA, Rabbit Fool Press & UCLA Filipinx Studies
Visit the website to view the complete lineup of programs, panels and workshops!
http://litfestpasadena.org
Saturday & Sunday, May 19 & 20, 2018 - FREE
The city and Southland's free books-and-authors festival, returns for its 7th year with two-days of panels, discussions, readings, and literary activities with local authors. LitFest Pasadena is held in the historic Playhouse District at the Pasadena Playhouse, Vroman's Bookstore, Zona Rosa Cafe, and many other local establishments.