Associate Clinical Professor Benjamin Woo is the 2017-18 recipient of the C. Doris and Toshio Hoshide Distinguished Teaching Prize in Asian American Studies
Dear Alumni and Friends,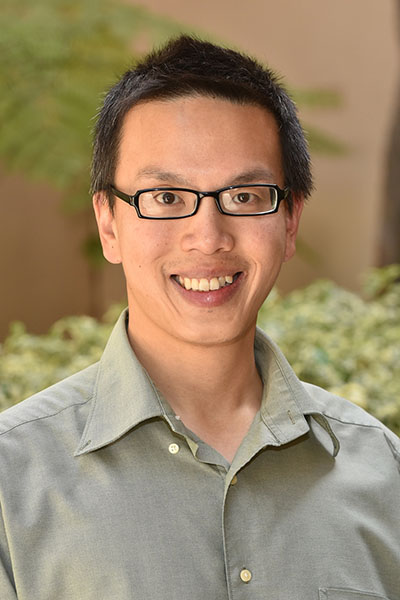 I am very pleased to announce that Associate Clinical Professor Benjamin K.P. Woo in Psychiatry, at the David Geffen School of Medicine is the 2017-18 recipient of the C. Doris and Toshio Hoshide Distinguished Teaching Prize in Asian American Studies at UCLA. Dr. Woo is also Psychiatry Clerkship Director at Olive View - UCLA Medical Center and a member of the AASC Faculty Advisory Committee.
Professor Woo received his medical degree from the University of California, San Diego School of Medicine. He is also the faculty advisor for the UCLA Asian Pacific Health Corps, an undergraduate student organization that promotes health awareness in the Asian communities. Dr. Woo has published more than thirty peer-reviewed articles addressing mental health care disparities amongst different Asian American Pacific Islander (AAPI) ethnic groups in the fields of emergency psychiatry and geriatric mental health. In 2011-13, he developed a culturally sensitive depression collaborative treatment model for a primary care clinic that serves uninsured Chinese patients. Dr. Woo was the recipient of the 2013 Advancing Minority Mental Health Award from the American Psychiatric Foundation.
Dr. Woo also serves the Chinese community through direct services, research, and community outreach. His outreach efforts include writing newspaper articles, speaking monthly on the only Cantonese radio station in Los Angeles, and serving as a medical expert for the Phoenix North America Chinese TV Channel.
Students expressed how Professor Woo is an exceptional educator that is deserving of the Hoshide Award and should be recognized for his continuous dedication to teaching. He teaches key courses on mental health care disparities, with a focus on breaking mental health stigma amongst AAPI communities, so they can continually improve their health conditions. A student described how Dr. Woo provided students with a foundational knowledge of the challenges Asian Americans face in receiving mental health care. Through his Psychiatry 197 course, Dr. Woo facilitated discussions of scientific articles in a relatable manner by encouraging students to connect their own personal backgrounds and knowledge to the scientific jargon and proof in the published pieces. "I thoroughly enjoyed his class because it not only opened my eyes to the advocacy efforts currently dispelling theses disparities but also contributed to my future goals as a physician," said one student. Another student commented, "He brings a fresh, excited energy to teaching that helped to foster my excitement for Asian American studies and the health field. His personal experiences in health care, his passion for the Asian American community and teaching, and his innovative teaching style make him an excellent educator."
Many students attested to how Dr. Woo is an inspiration. "When he talks about his clinical work, I get excited about joining the field just from seeing his own passion for the subject. On top of that, he also takes a true interest in teaching and mentoring his students. Dr. Woo is the type of teacher who invests himself in his students' lives. He makes it clear that he's always willing to take time out of his schedule to help his students grow and learn," said one student. "Dr. Woo is that inspiring professor for me and I hope to impact the lives of others just as he has impacted mine. Dr. Woo has not only given me knowledge, but has also inspired me to have courage," stated another student. A few students shared how Dr. Woo encouraged them to go beyond the bare minimum and challenged them to continuously improve and reflect on what they learn and how to apply their knowledge.
Students also offered high praise for Dr. Woo's mentorship. "He gives constant support to students searching for guidance, which I believe attests to his love for teaching and for his community. Dr. Woo has imparted not only scientific wisdom and critical thinking among his students but also the valuable lessons of life knowledge," said a student. As the advisor for Asian Pacific Health Corps, he oversees an organization that serves the Asian and Pacific Islander community in Los Angeles by providing increased access to quality healthcare screenings and other resources. Amidst difficult situations, he sought to solve the problems with the students and never for them, in turn promoting their growth as students but also as professional individuals.
The late C. Doris Hoshide, Class of 1934, of Rockville, MD established the teaching prize to annually recognize an outstanding professor in Asian American Studies. She was a longtime supporter of Asian American Studies at her alma mater. The Hoshide Prize includes a one thousand dollar award.
Please join me in congratulating Professor Benjamin Woo!
Best wishes,
Karen Umemoto, AASC Director